Introduction
Laser hair reduction may not be in the forefront of your mind if your world looks like ours does right now. Winter is in full force here in Northern Idaho, so we're thinking of hydration and protecting our skin from the elements. The last thing we're thinking about is being fuzz-free when we're finally ready to shed layers. However, this is the perfect time to prepare for sunny days with laser hair reduction. Check out our answers to some Frequently Asked Questions to help you decide if this treatment is right for you.
What should I do to prepare?
In preparation for your first laser hair reduction appointment, stop tanning (both outdoors and indoors), and stop using sunless tanner. 
Further, make sure to make your practitioner knows your medical history, as facts you may not suspect can affect the safety and effectiveness of laser hair reduction. Specifically, mention the following facts if they apply to you:
You have a tendency to scar.
You have had a keloid.
You experience outbreaks of cold sores or genital herpes.
You have taken isotretinoin
You are taking any medication (prescription or over-the-counter)
What should I do to take care of my skin after laser hair reduction?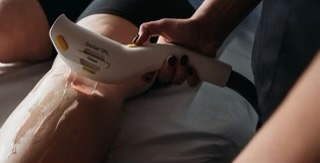 You will likely experience some redness and swelling (akin to a mild sunburn) after treatment. Applying a cold compress will help ease the pain/discomfort.
It is imperative to avoid direct sunlight after each treatment and to refrain from using sun lamps, tanning beds, or any other indoor tanning equipment.
Are there any negative side effects?
Generally, recipients of laser hair reduction treatments experience only minor and short-lived side effects, such as discomfort, swelling, and redness on the treated area. 
More serious negative side effects are uncommon when treatment is performed by an experienced medical professional, such as our team at Lakeside Medspa.
However, it bears mentioning that more serious and undesirable side effects, while uncommon, are possible. These include blistering, cold sore outbreaks, infections, and scarring.
Changes in skin color are not usually permanent, and your skin will return to normal with time. Further, following the pre- and post-care instructions greatly decreases any chance of those undesirable side effects.
Is there downtime after Laser Hair Reduction?
Nope! There is virtually no downtime after laser hair reduction! You will experience mild redness and swelling, but this rarely prevents resumption of normal activities. 
If I have light hair or dark skin, will laser hair reduction work for me?
In the past, laser hair reduction was only safe and effective for those with light skin and dark hair. Now, thanks to advancements in the field, laser hair reduction is also available to those with dark skin and to those with light hair and light skin. The greater the contrast between hair and skin, the safe and more effective the treatment, so staying out of the sun and avoiding tanning of all sorts is vital. 
In which areas can laser hair reduction be used?
Laser hair reduction is effective in treating the following areas: 
Face (commonly the chin and upper lip)
Neck
Shoulders
Armpits 
Back
Chest
Legs
Bikini Area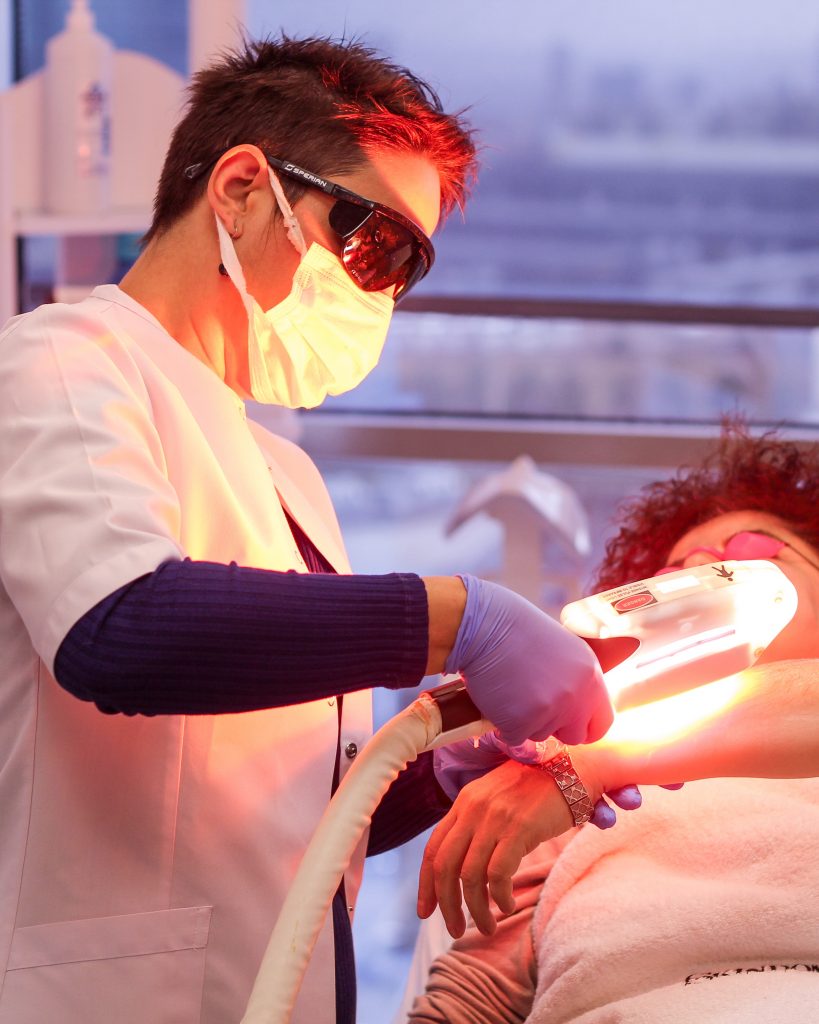 How many laser hair removal sessions will I need to see results?
You will see some results immediately after your first treatment! Results depend upon your skin type, hair type, and the area treated, but most people see 10-25% reduction in hair right away.
Laser hair reduction generally takes 6 or more sessions for full results. This will vary depending upon the treatment area and your individual skin and hair types.
How long should I wait between treatments?
Although this varies from person-to-person, most people may undergo laser hair reduction treatments every 4-6 weeks. 
How long will laser hair removal last?
Most recipients of laser hair reduction treatments remain fuzz-free for months or even years! When hair does regrow, it will likely be thinner and lighter than it was before treatment.  
Please note that, due to hormones, results have less longevity on women's faces.
You should consider regular maintenance treatments for continued and long-term results. The spacing of maintenance treatments differs from person to person and depends upon the area of treatment.
What should I expect during my laser hair reduction sessions?
We begin by inspecting your skin at the treatment area before cleansing and applying a numbing gel. The numbing process takes 30-60 minutes.
Because of the strength of our laser, everyone in the treatment room must wear protective eyewear. We will hold your skin taught for the treatment. The laser vaporizes the hair, producing smoke and the faint smell of sulfur.
The laser pulses feel like the snap of a rubber band or the prick of a pin.
How long will each treatment last?
The length of each treatment depends upon the size of the area being treated. For example, the upper lip takes less than ten minutes, while larger areas such as the legs take an hour or more.
Conclusion
Our team at Lakeside Medspa is made up of only highly-trained medical professionals ready to safely and effectively administer laser hair reduction. We would love to help you to determine whether this might be the thing to keep you effortlessly smooth and fuzz-free! Contact us for a free consultation. 
xoxo Rachel and Ryan