ABOUT DERMAL FILLERS
Dermal fillers are a cosmetic injectable that helps add volume to certain areas of the skin in order to create a youthful, flawless appearance. There are many different brands of cosmetic dermal fillers on the market that are able to give you fresh, rejuvenated results.
HOW DERMAL FILLERS WORK
Dermal filler treatments work by using a hyaluronic acid gel-based injection in order to boost your skin's volume while providing a naturally appearing and rejuvenated look. Dermal fillers can last between 6-12 months and require no downtime after treatment.
WHAT DERMAL FILLERS TREAT
Lips
Smile lines
Certain Scars
Cheeks
Vertical Lip Lines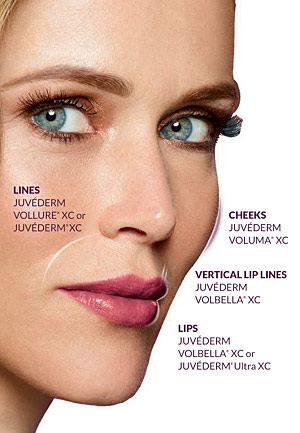 ABOUT JUVEDERM® TREATMENTS
JUVEDERM® is a type of cosmetic dermal filler used to help eliminate lines and wrinkles. JUVEDERM® cosmetic is a smooth-consistency gel that is infused with lidocaine in order to improve comfort during treatment. Cosmetic JUVEDERM® treatments are FDA approved to last up to a year with one treatment.
HOW JUVEDERM® TREATMENTS WORK
JUVEDERM® treatments work by injecting the special HA, smooth-consistency gel into the troubled area of skin with a very fine needle. The gel is able to add volume within the skin while also promoting collagen and elastin production for a naturally appearing result.
WHAT JUVEDERM® TREATS
Lips
Smile lines
Certain Scars
Cheeks
Deeper set wrinkles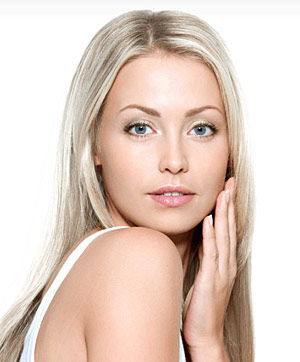 ABOUT VOLUMA™
Aging isn't always about gaining lines and wrinkles. Sagging skin, hollowed cheeks, and flattened facial definition also contribute to noticeable signs of aging. But thanks to recent technology, Voluma™ is capable of providing a more youthful lift in the cheeks in order for you to achieve a flawless lift without surgery! As an FDA approved HA (hyaluronic acid) dermal filler, Voluma™ is the first of its kind to instantly add volume to enhance the cheek and midfacial region that's clinically proven to last up to two years!
HOW VOLUMA™ WORKS
Voluma™ is part of the Juvederm® family. As an HA cosmetic dermal filler advanced with HYLACROSS™ technology, Voluma™ gives clients an enhanced lift while restoring volume to the cheeks and midface region. Once injected, your cosmetic medical professional expert is capable of molding and contouring Voluma™ so that you gain customized, rejuvenated results.
WHAT VOLUMA™ TREATS
Cheeks
Midface
Elasticity
Structure
Provides very natural-like results

ABOUT VOLLURE™
Juvederm Vollure™ XC softens moderate to severe facial lines and wrinkles to create a smoother appearance for up to 18 months.
WHAT VOLLURE™ TREATS
Marionette lines (the lines that develop between the corners of your mouth as well as along your jawline and chin)
Nasolabial folds (the wrinkles that form from the corners of your mouth to the corners of your nose)
Wrinkles and lines that are considered mild to moderate in terms of severity
Lower section of your face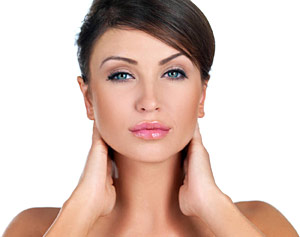 ABOUT VOLBELLA®
Juvederm Volbella® XC is a dermal filler used to define lips and for the correction of fine wrinkles around the lips. This temporary filler is made of Hyaluronic Acid and does not require a skin test before your injections. The smaller Hylauronic Acid particle size in Volbella allows your cosmetic injector to treat fine lines without getting a full look in these delicate areas.
WHAT VOLBELLA® CAN DO
Add fullness and plumpness to the lips
Produce results that last for up to a year.
Provide gentle contouring for the correction of lip asymmetry.
Soften the appearance of fine lines that often appear around the mouth as we age.
Produce natural-looking results that are so subtle that no one needs to know that you had the procedure in the first place.