NECK + DECOLLETE
Brighten. Lighten. Tighten.
Taking care of your skin shouldn't stop at your face.  The neck and chest can show early warning signs of aging.  The skin there is much thinner, which means it will probably be one of the first places we will notice things like brown spots and crepiness. For the majority, it's because we haven't protected our neck and décolleté from the sun on a daily basis.
Sun damage, along with the lack of oil glands can cause dryness and accelerate the aging process. Couple that with all the twisting and turning that we do daily and we end up with crepey, aging, photodamaged skin with visible fine lines on our neck and décolleté. We need to be as consistent in taking care of our neck and décolleté as we are with our faces, to keep the area looking healthy and youthful.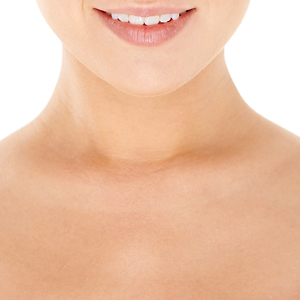 Fortunately, there's help! DermaSweep's exclusive 3-in-1 bristle tip powered exfoliation, oxygen driven exfoliation combined with one our proprietary, scientifically proven SkinFusions, will give you brighter, firmer more even toned skin on the neck and chest. The outcome is a blank, blank, more beautiful you!
Indications: fine lines, tone and texture, crepiness, pigmentation, photoaging, photodamage, sun spots, age spots.